Rugged Construction
Constructed from high impact polypropylene and designed for easy maintenance, Trimline cartridge filters will give years of trouble free service.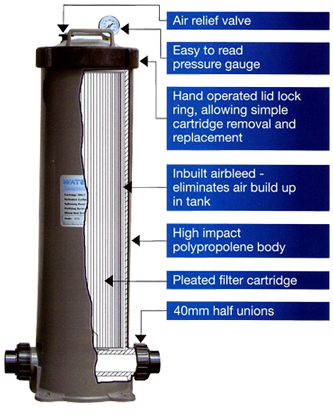 Trimline Pleated Filter Cartridge
The Trimline pleated filter cartridge are fabricated from pleated reusable polystar fabric. The media has been pleated to provide 4.6 to 9.3 sqaure meters of surface area in order to maximise the cartridge dirt holding capacity and extend the time between cleaning.
Material :
Polyestar Fabric mineral, vinyl Plastisol end caps and caps and a Polyproylene core.
Operating Temperature :
4°C to 50°C
Maximum Pressure Drop :
20kPa
Simple Maintenance :
The filter cartridge is easily cleaned by hosting the pleats with a standard garden house.