Electrochlor LCD
Electrochlor Salt Water Chlorinator
The Electrochlor will automatically maintain the chlorine level of your pool and eliminate problems associated with periods of very high or low chlorine levels. Fewer fluctuations in chlorine levels mean fewer fluctuations in pH levels. This adds up to more stable, balanced water. Consistently maintained sanitizer levels in the pool water will prevent the growth of all common algae. A salt-water chlorinated pool requires much less attention than a chlorine pool. A salt water pool provides a more comfortable swimming environment. Salt water feels better and is less irritating to the body than standard chlorinated water. The amount of salt required, varies from 4000ppm to 6500ppm. In comparison, a teardrop is about 7,200 ppm and ocean water about 36,000 ppm

Electrochlor automatically generates chlorine to keep your swimming pool clean and healthy.
| | |
| --- | --- |
| • | In built pool monitor and pump protection. |
| • | Precision chlorine production controls. |
| • | Super Chlorination function. |
| • | High performance titanium electrolytic cell. |
| • | Self-cleaning electrolytic cell. |
| • | 4 bar pressure rated salt cell housing. |
| • | 5 year's conditional warranty. Please refer to Waterco's warranty terms and conditions. |
Advanced Programming

Programme the chlorinator timer to turn on or off at any time that suits your lifestyle. 7 Day timer allows for settings on week days, weekends, any day or every day operation. 3 timer settings are available. You can program the Electrochlor for extra chlorination during the weekends and less chlorination during weekdays.

Pump Protection

If no water flow is detected in the salt cell, Electrochlor automatically switches off the pump to prevent any damage to the pump and pool equipment. Indicators will start blinking on the LCD panel to alert the pool owner, until the fault is rectified.

Low Maintenance

Electrochlor Self Clean Salt Cell has the added ability to reverse the polarity of the voltage to clean calcium buildup off its electrodes.

Pool Monitor

Electrochlor's power pack has an inbuilt:

• Salt level indicator.
• Chlorine production indicator.

Battery Back Up

A Battery backup is incorporated to save your settings in the event of a power failure. A battery link is provided to maximise battery life.

Salts Level - Operation

Once an Electrochlor is installed and the desirable salt level is achieved (see table), salt needs only to be added occasionally to replace any water loss e.g. splash out evaporation, backwashing.
ElectroChlor Power Pack
The Power Pack monitors and controls chlorine production by regulating the amount of electrical energy supplied to the salt cell.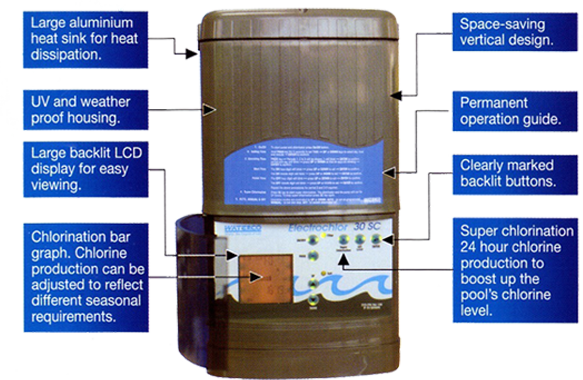 ElectroChlor Salt Cell
The ElectroChor's salt cell consists of a series of titanium electrodes with opposite charges. ElectroChlor's clear salt cell housing allows visual inspection of the salt cell plates and enables monitoring of chlorine production.

The cell housing is constructed using clear U.V. stabilized acrylic. Both anode and cathode of the self-clean chlorinator are made from uniquely coted titanium mesh to add extra durability and life.
Brass Pin Connections
Utilising quick connectors for quick simple removal of the cell.